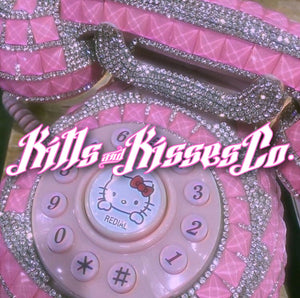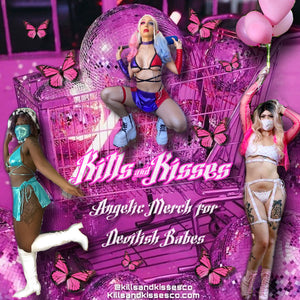 XOXO
HI ANGELZ!
Welcome to my dream world! My BLING Fairy Land for BaDDiEs!!

If you don't see the size you are looking for, need a plus size or a custom made outfit of your dreams, please email killsandkissesco@gmail.com.
Thx so much for checking us out (;
Here at Kills & Kisses Co. everything is a limited edition creation or 1/1! All the products you find on the site are hand made with love by the owner/designer Morgan Chapman (@iblamemorgan).
Coming from a background of high fashion modeling I grew obsessed with everything about fashion.
Inspired by the 90's, early 2000's, & y2k trends, mixed with some fairy magic & new age Baddie vibes... Professor Morgan added an extra ingredient to the concoction... CHEMICAL X! ! ! THUS K&K was born!
Focused on releasing ever evolving limited edition collections.. Including funky festival fashion, y2k sets, rave wear, exotic dance wear, club wear, bikinis, dresses, custom painted jackets, custom clothing, jewelry and more! I hope you find something that makes you feel like the CONFIDENT ANGEL that you are!
Shop around & I'm sure you'll find something KILLER ;) <3